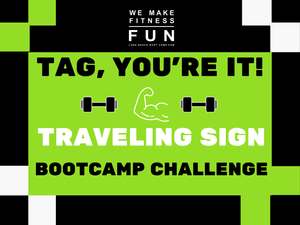 The NEW CHALLENGE is upon us! If you see this sign in front of your house, it means you've been "tagged", that is, nominated to do the challenge.
The challenge itself is an ALPHABET WORKOUT. More on that in a moment. First things first:
1. Snap a photo of yourself with the sign and post it (FB/IG) and let us know you've been tagged
2. Complete the challenge: Spell your name using the exercises associated with the letters of the alphabet. No abbreviations please. (The link to the 'alphabet' is HERE).
3. When done, nominate (aka tag) another bootcamper to do the challenge (either place the sign in front of their house or tell me who you'd like to "tag" and I'll place the sign). 
4. Don't spill the beans! Go live if possible (FG/IG) or snap another photo and post it so that we know you finished BUT don't say who you're nominating. Make it a surprise! That is the best part of the challenge. 
Take no more than 1-2 days to finish the challenge so the signs travel quickly (there are 2 signs).
What if you live in a gated community or an apartment complex? 
Rest assured that you will NOT be excluded from the challenge! A postcard version of the sign has been created so that you too get to participate.
 The alphabet with associated exercises is available HERE.
Have fun with it, LBBC fam!